Divorce Confidential – The Official DLG Podcast
You don't want to trust anyone during a divorce, you want the pros! Join Managing Attorney, Michelle Dellino, and Amy Alpeza, Certified Real Estate Divorce Specialist, to talk about all things divorce!
Tune in weekly to our listen to our latest topic. Every week we publish a new podcast where we discuss top divorce tips, how to protect your assets, selling your home in a divorce, and so much more.
Find us wherever you get your podcasts. Come get tips, guidance, and advice from the pros!
Apple
Google Podcasts
Podbean
Spotify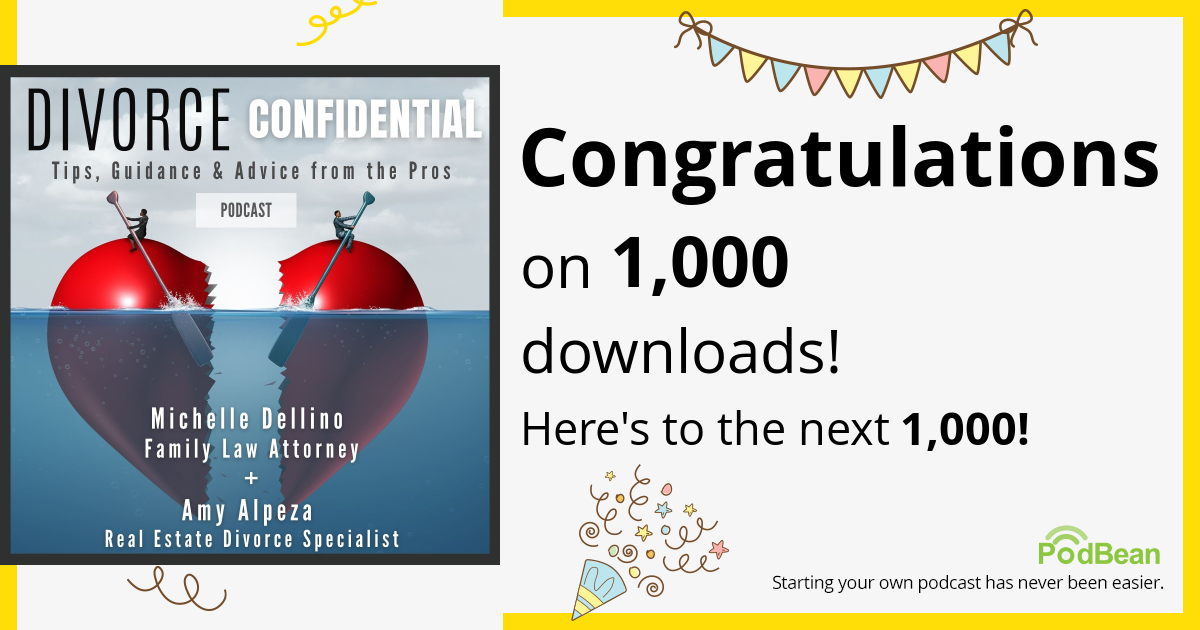 _____________________________________
Tune in to hear Dellino Family Law Group on a variety of other podcasts. Managing Attorney, Michelle Dellino, frequently appears on different podcasts to discuss everything from divorce and family law issues to building her business, and so much more!
Look below for recent podcasts and stay tuned for more to come.
The Modern Divorce Podcast – Unmarried Partner Traps: The Surprising Rules That Can Cost You When You Break Up
Listen to the Podcast
Moving in together seems simple, right? Until someone moves out, that someone claims the rights that belong to "cohabitating partners" in that state.
Michelle joins Billie Tarascio of The Modern Divorce Podcast to compare the high impact differences between splitting up in one state versus another.
Prepare to hear some critical traps and "gotchas" that make this a must-listen to anyone who is living with their partner without a marriage license. The idea that "we don't need a piece of paper" to make a relationship is exactly right – because the state you live in will make the rules for you, and it may not be pretty. And it's probably going to cost one of you waaaaay more than the other, unless you both decide for yourselves what the rules should be beforehand.
     Related Links:

mymodernlaw.com
_____________________________________
Wealthy Woman Lawyer® Podcast – How and Why to Grow Your Law Firm Team Now, and Without Fear

Listen to the Podcast
Michelle joins the
Wealthy Woman Lawyer® Podcast
to chat with CEO and Founder, Davina Frederick, about building a law firm and her secrets to continued growth. Michelle talks about hiring and growing a team quickly, as well as finding confidence as a woman in the law field. She also touches on important qualities needed of a strong and successful leader, plus the importance of incorporating wellness into professional spaces (and offering a one-of-a-kind employee benefit), and so much more!
     Related Links:
     
wealthywomanlawyer.com
_____________________________________
Out of Crazytown Podcast – Your Guide to Divorcing a Narcissist

Watch it on YouTube
Listen to the Podcast
What is cooperative divorce and is it a good path for high conflict divorce? Michelle joins High-Conflict Divorce Coach/Consultant, Jackie Miller, from the
Out of Crazytown Podcast
to discuss this topic, and walk through the different approaches to divorce. Learn about cooperative divorce and why it could be a great path when divorcing a narcissist.
     Related Links:

jackiemillercoaching.com
_____________________________________
Maximum Lawyer Podcast – Building a Business On Life Lessons

Watch it on YouTube
More Info About the Podcast
Michelle joins Jim Hacking and Tyson Mutrux with the
Maximum Lawyer Podcast
to discuss building her business on lessons from her life. Watch Michelle's featured appearance as she discusses her journey from dropping out of high school, to battling cancer, to owning a successful law firm.
     Related Links:

MaximumLawyer.com